fashion week: a style guide and lessons in self confidence
fashion | style | paris fashion week | street style
Fashion week is a rush. It's hectic. Full of energy. People running here and there. Industry professionals working hard. And of course, a never ending business hub. To be pretty frank with you during this week especially, I experienced a big dip in my self-confidence. And of course, there was a lead up until this point.
WHAT TO DO IF YOU'RE HOME ALONE THIS CHRISTMAS
STYLE | planning | LIFESTYLE | WELLNESS | CHRISTMAS |
Christmas marks a rapid close to the end of the year, one which has been very eventful and filled with opportunities for me and for that I am grateful. However, with plenty reminders that the sun shines bright and warmly where most of my loved ones are for the holidays I've compiled a list of things (or should I say distractions) that loners like myself can do on Christmas Day to take your mind off of things!
COLOURING FALL
STYLE | FALL PIECES | TRANSITION | BRAIDS
In Paris, a common sight for outfits is darker colours as the cold winds come. Not to mention that in fashion, black is frequently worn because of the effortlessly edgy and chic appeal that it has. I love colour and try to wear something that incorporates a bold if not loud hue daily. This also boosts your overall mood. I enjoy being the bearer of colour during the darkest and dreariest days.
DOWN DE ISLANDS: THE ULTIMATE ISLAND HOLIDAY LOOKBOOK
HOLIDAY STYLE | LOOKBOOK | RESORTWEAR | TRAVEL STYLE | TROPICAL
Do you all know that feeling you get to travel? And that feeling of excitement that you get when you are able to visit somewhere that you haven't seen in a long time? That was me for this summer. It had been almost one year since I had last been in Barbados and I'll admit that I shed a tear every time I see her shores.
brunchfit: secrets to pulling together a "new" outfit
BRUNCH | STYLE | WHAT TO WEAR | SPRING FASHION | SPRING STYLE | SUMMER STYLE | FLORALS
Improvising and messing around with what you have in your closet is also what makes a plethora of styles and gives the appearance of a closet filled with clothes. Turn your jumpsuit into a trousers, or turn your dress into a shirt by folding and tucking appropriately. It easily gives the illusion that you have more to your closet!
Combining two separate prints, or one print and a solid, bold colour is a must.
THE PERFECT SUMMER SUIT
The perfect white suit can be perfect for any season, but my favourite period to see it is in the late spring, bordering summer. Stark white against the vibrant, bold colours of summer makes a white suit takes the wind out of people (in a good way).
How do I like my suits you ask? Oversized.
This time around I teamed up with fellow blogger Lamic Kirabo from Third Local !
STUNNA FOREVA
My outfit, which is a total & Other Stories look, was styled to look more laid back and 90s hip hop.
I stalked all three & Other Stories locations in Paris for 2 weeks until they were available in store. I'm not a creep really, I promise. Just a fashion lover.
P-GAL: THE ALL WHITE ENSEMBLE
I love dressing for comfort, because who really has time to be tugging at their clothes every ten minutes? Since moving to Paris, I've really embraced a sporty look which I never totally noticed was there.
IN BLOOM: LA VIE EN VERT
The day I took these photos, it wasn't extremely cold but I nearly froze anyway. After spending nearly two full years in Paris, I hoped to become more acclimatized to winters, but I experienced a chill like no other in these past few days. With the undecided weather patterns that Paris was experiencing: snow, rain, snow again, I was happy to have one great shooting day.
Turtlenecks and Tulle: TCA x Paris Fashion Week (Day One )
After the Saint Laurent show, I couldn't find my friends, so I did a bit of wandering. While thoughtlessly walking around, I spotted Julia Sarr-Jamois and nearly fainted on the spot. After having done a project last year on fashion editors, I came across this gem of a human being. I love her work, her style, and her HAIR! She's on my must follow list for instagram and one of my fashion idols.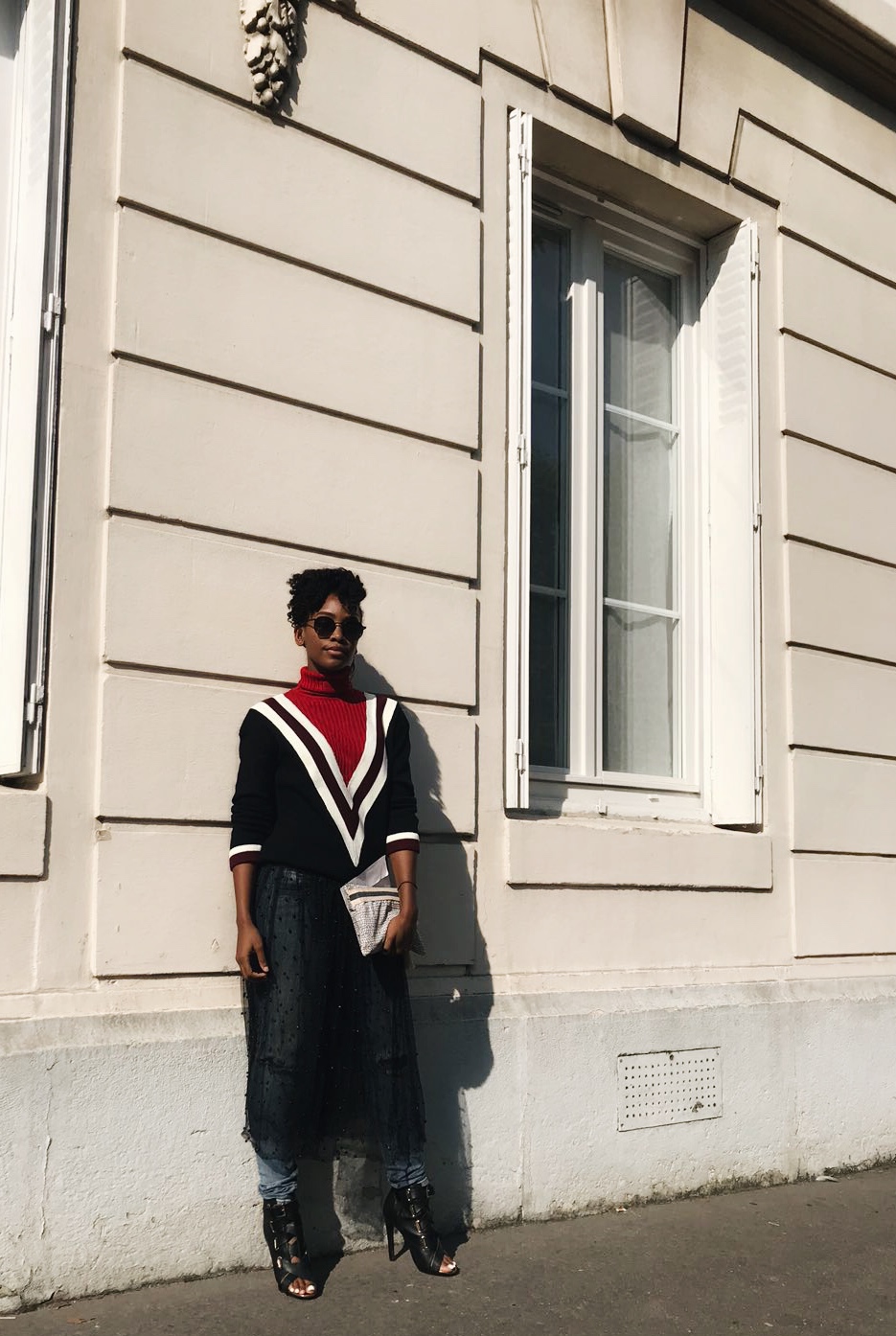 Palm trees in autumn
This Paris Fashion Week, I'll be more participative, and try to capture more of my outfits and personal experiences throughout the week to share with you every day of the week! I'm also going to be teaming up with Island Bags, and using my island bags pieces with my fashion week wardrobe.